About
"A Good Place to Do Business"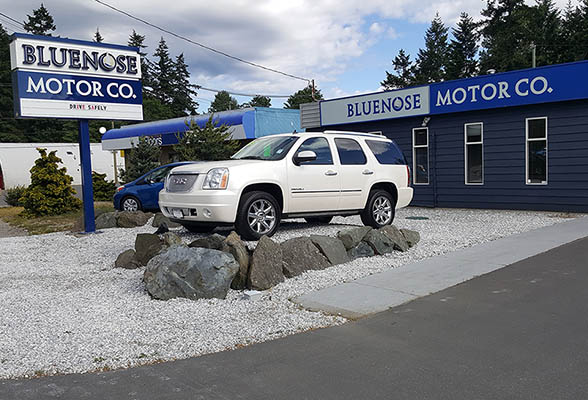 Since its inception in 2003, Bluenose Motor Company has strived not only for excellence, but to give each person who steps onto the lot a positive and personalized experience. Above this, the Bluenose Motor crew proudly offers only the highest quality pre-owned vehicles, through which each member of our crew can guarantee the safety and satisfaction of every client.
Located in beautiful Parksville, British Columbia, we are proud to call this seaside town our home. Only steps away from the ocean, the scent of sea lingers over the Bluenose Motor Company car lot and the mountains loom large in the distance. Less than 40 kilometres north of Nanaimo and two BC Ferry Terminals, Parksville is a world away from the bustle of the city, making it an enormously popular tourist destination. Just hop on the Island Highway toward your seaside escape.
Parksville is a small, tight-knit community and Bluenose Motor Company embodies the values and beliefs upheld by the locals. Each member of the Bluenose crew operates with honesty, integrity, and small-town charm, all of which has helped establish Bluenose as a good place to do business.
True to form, owner Al Cameron values his community and the connections he has forged within the Oceanside area. Al has served as a Director on the boards of the Automobile Retailers Association of British Columbia, and the Vehicle Sales Authority. Al is also an active Rotarian with the Rotary Club of Parksville AM.
Furthermore, Bluenose Motor Company is a proud supporter of the following local organizations:
Ballenas Dry Grad
Beachfest
Building Learning Together and the W.O.W bus
Chamber of Commerce
Seaside Cruisers
Rotary, including sponsorship of Taste of Oceanside, Crabfest, Coats for Kids, Nanaimo Womens Centre, and the RCMP Musical Ride
Salvation Army
SPCA
★ ★ ★ ★ ★

Dan was awesome! I'd been searching for a Kia Soul and Bluenose kept popping up. I decided to do a test drive and I couldn't be happier! I love my 2015 Kia Soul, and the office staff and Dan made everything smooth the streamlined. First time buying a car solo and I really felt I was in good hands, appreciated them setting up for insurance to come in for me too..
★ ★ ★ ★ ★

Dan was knowledgeable and helpful in our purchase of an ML 320. The vehicle is in good shape and we paid a fair price. He bent over backwards to help make the purchase easy. He was responsive and answered all our questions. We will be back.
★ ★ ★ ★ ★

Dan was An excellent salesman At Bluenose motor in parksville, , Very smooth process from beginning to end, Knowledgeble and experience. Thank so much for your time Dan.
Chris Harringa
2 years ago
★ ★ ★ ★ ★

I have bought 2 vehicles from Blue Nose Motors and have been very happy with the time and attention they have delivered. Dan has been very fair and honest with me regarding my trade in and purchase. Penny was knowledgeable, thorough, and helpful with the purchase of an extended warranty. Al, the owner, never fails to be pleasant and attentive...
★ ★ ★ ★ ★

We were totally satisfied with the purchase of our classic Jag convertible at Bluenose. The price, advice, sales and assistance were all exemplary. Dan was great to work with—as were all staff—personable and genuine. In all our experiences buying cars, our Bluenose experience was by far the best!